Have you ever thought about becoming a dog trainer? Maybe you want a lifestyle and career change.




Train the Trainers The Grayling Way is a specialised service which offers expert training from Ingrid Grayling over an intensive three-day course for people who want to become professional dog trainers, and want to learn from an experienced and professionally recognised trainer.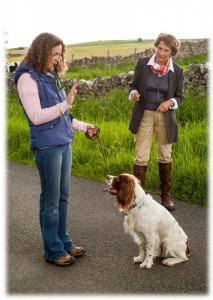 You will benefit from the highest level of training available with the expertise and support of Ingrid.
The course includes practical techniques and approaches to training any type of dog, and covers the necessary people and business skills for a successful and professional career.
Over the course you will learn all aspects of dog training. Some of the areas covered include:
– Working with rescue dogs
– Behavioural issues
– Anti Livestock training
– Puppy care
– Gun Dogs
– Working Dogs in different environments
The course also includes optional modules on business management, PR and marketing where other professional experts will be working with Ingrid to deliver the essential components to enable you to set-up and run a successful business as a dog trainer.
Ongoing support – once the course finishes Ingrid's involvement doesn't end there – you will be offered a 6 month support period so that you have the backup and support should you need it. Whether you have a question about an individual aspect of training, further advice, or you simply want to chat through your new venture plans, Ingrid will be on-hand to help, guide and support you.
COURSE DETAILS
Course places – the course offers a highly personal training environment with places available for one-to-one, or a maximum of 2 individuals on each course at any one time.
You will receive Ingrid's individual and undivided attention and teaching, so that you will learn and gain much more from this 1-2-1 approach.
Timings – the courses run throughout the year and can be booked on an individual basis to accommodate your specific dates – please contact Ingrid to discuss timings further.
Course environment – each course is individual and most importantly fun!
Lessons include a mixture of practical classroom time and physical hands-on work with the dog.
We run the courses from our idyllic Cumbrian training venue which offers a warm and dry venue (should the weather be wet) – and also plenty of private outdoor open space where we work with the dogs where you will learn the basic training skills in real situations.
Course prices & details – the course fees includes all course material with take home folder, lunch and refreshments each day, end of course certificate, and 6 month post course support.  Please contact Ingrid to discuss the course and the costs further.
Accommodation – we can recommend several local accommodations for you to stay in while on the course where your dog will be welcome to stay with you – we can send you a list on request.
I have successfully trained several people since I set up this course – read a testimonial from one student here.
Booking – if you have any questions, would like to chat to Ingrid further about the course or would like discuss availability – please call Ingrid on 01931 715282 or email ingrid@ingrid-grayling.com