1 day course
My complete course in one day
These courses are perfect for people who live further afield or who want to do the 6 week dog training course in a condensed period of time. Some people like a more personal service so these courses offer just that, dedicated and exclusive one to one teaching with me.
Alternative: train with a friend
This day course can be tailored to suit you if you have a friend who would also like to train their dog. It is great fun learning with a friend and this also means you can offer support to each other. Please contact me for this course and the cost.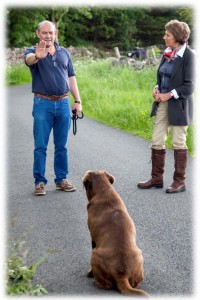 As well as being highly informative, these days courses are great fun and totally hands on, clients who come on these courses will leave having had a great time learning new and extensive training skills, and armed with the confidence and knowledge to be able to train their dog back in their own environment; as well as knowledge of how to handle any problems that may have arisen during the days training program.
It is very rewarding as well as being highly beneficial for all of us to spend a quality training time together and not to feel rushed or under pressure to learn, which is why my days courses are so popular. I am not only passing on my professional advice and skills but during the course we have quality time to achieve what we need to.
I provide lunch where we take a break to relax and talk about the mornings training and discuss any elements that may need addressing before we move into the afternoon session.
On completing the course you maybe required to return 4 weeks later for one final lesson where, if required , the anti-livestock chasing will be introduced. (this depends on the distance you have to travel and will be discussed). This is the last stage of the training and this is when your dog will be let off the training line for freedom under control.
The work that you and your dog have both put in over the past few weeks will come together at this time. In between the course and the final lesson full back up and support is available from me should you need it via the telephone and email.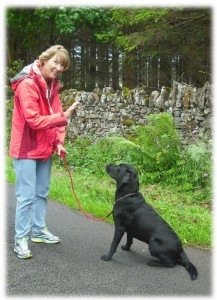 The syllabus includes:
– Basic obedience training
– Walks to heel on a lead without pulling
– Walks to heel off a lead at your side
– Leaves your side on command
– Sits, stays and comes to a whistle
– Sits at a distance on a whistle and a hand signal
– Does not chase livestock
– Comes back every time on recall whistle
As well as the above, the following is also covered in the course:
– Maintaining good behaviour in the home
– Applying the principles of pack leadership
– Learning how nutrition can affect behaviour
– Teaching social skills with other dogs and humans
At the start of the course I will make a full assessment of your dog and discuss with you any special areas which need to be addressed; for example, if issues such as sheep chasing or barking at other dogs are a problem these will be focused on these.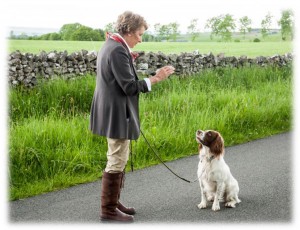 The cost includes all the necessary training equipment you may need,  lunch and refreshments (any special dietary requirements can be discussed at the time of  booking).
Advanced tidying up lesson
Having successfully trained your dog you may in the future decide that you would like me to keep an eye on you! So a  "Tidying Up" one hour lesson is also available should you feel that you need it.
To find out more and to discuss available dates please email: ingrid@ingrid-grayling.com