Training for dogs with special needs
For some dogs, conventional training simply isn't enough. Issues such as aggression, toileting, excessive barking and destructive tendencies may have to be addressed along with obedience work.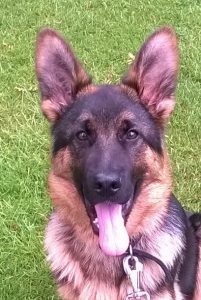 Although these problems are especially associated with dogs adopted from animal rescue centres, they can be present in any pet which hasn't had a loving discipline from an early age.
However, from my long experience I know that excellent results can be achieved in a very short time with the right approach. But I don't just teach dogs… I also give owners the skills and confidence to raise their pets as well-adjusted, obedient and trustworthy members of the household.
Each dog is different in its needs and the correct approach required, so please feel free to call me to discuss. If sheep chasing is an issue with your dog, see our separate livestock chasing page.
Telephone Ingrid on 07432 367 325 or email ingrid@ingrid-grayling.com