It's been a fantastic summer here in South Devon with so many of the country shows back on since Covid stopped them last year.
I'm really looking forward to being a part of the Kingsbridge Show on September 3rd, look out for my banner in the main ring!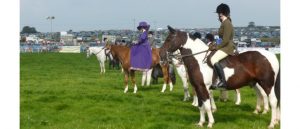 The show is celebrating it's 141st year, 68 of which have been at Borough Farm. It's a fantastic day out for all the family, offering classes in Horses, Cattle, Sheep, Homecraft, Young Farmers, Horticulture, Floral Art and Domestic pets. In addition to this there are over hundreds of Trade Stands, Craft stands, local food and drinks stands, Children's Pets Corner, Donkey rides, Vintage and Modern Tractors, Live Music, a licensed bar and a wide range of main ring attractions.
There is plenty of free parking but for those of you wishing to be eco friendly or make use of the bar and locally produced goodies there will be a FREE tally ho shuttle bus running from Kingsbridge Quay!