"We have had Skye since she was 10 weeks old. She has always been a great dog to have around the house and gentle with other dogs and people. However, she gradually became less and less responsive to her recall, always returning to us but on her terms, when she felt like it. She was also a nightmare on the lead, pulling constantly. Any animal that offered a chase (squirrel, bird, sheep, rabbit) she would chase, to the point where we were avoiding certain areas or eventually not taking her at all on certain walks.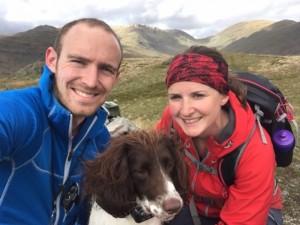 We had been to 3 other dog trainers before, all of their techniques and advice had failed. We then came across Ingrid. We spoke initially on the phone and she immediately filled me with confidence that she could help solve our problems with Skye. Throughout our training, Ingrid was willing to offer advice and support whenever we had questions or concerns.
With Ingrid we undertook a 6 week intensive training program which resulted in Skye being able to walk through a sheep field, off lead, under our complete control. Her lead walking has drastically improved and we are continuing to build the time she is spending on the lead. On the last weekend of our training program we were able to enjoy a Lake District fell walk, with Skye off the lead, and having no concern about coming across livestock.
The training program does require commitment from us humans as well as the dogs, but 6 weeks hard work is a small sacrifice for a life of fun and freedom with our dog, Skye.
Ingrid, we couldn't thank you enough".
Rob, Fiona and Skye