At 10 months old our Hungarian Vizsla was not progressing as we had expected. We were not 100% confident of her recall if she was out in the open and distracted; which meant confining her to running free in enclosed paddocks and fields with nobody else about. As her lead work was also poor it meant Ruby was not getting the freedom we wanted to give her.
After much research we visited Ingrid and could see the instant response Ruby had to Ingrid's commands. After talking about our expectations and Ingrid's various services, we made a difficult decision to book Ruby in for a 4 week residential course.
It was a difficult decision for us simply because we really did not want to be parted from Ruby for 4 weeks! However, we also knew that in the long term, it was the right thing to do and it would give Ruby the freedom she needs whilst still being safely in our control. As Ruby has such a superb character and temperament, our other concern was it would be lost in training and we would receive a 'robotic' and suppressed dog back after 4 weeks. We explained our concerns to Ingrid and she fully understood our worries but reassured us this would not be the case; Ruby would still have the same characteristics and temperament after training. This was further reinforced when we saw the dogs in Ingrid's kennels that were part way through training; they certainly retained their character but also responded to Ingrid's every command.
We handed Ruby over to Ingrid and it was probably more difficult for us but Ingrid coped with us very well! During the 4 weeks Ingrid called us regularly to give us an update on how Ruby was progressing, this was a very nice touch as it was reassuring to know she was doing well. At the end of the 4 weeks we returned to Ingrid and collected Ruby. Everything Ingrid had said was true; her character was still the same but she responded to all the training learnt over the previous 4 weeks. Ingrid spent time with us to ensure we understood how to progress with the training and also advised that if we had any future queries or concerns we can call her for support.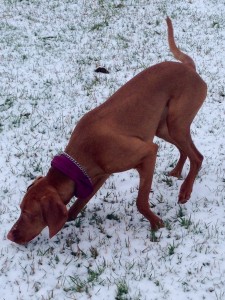 Ruby's lead work is now very good. We are much more confident with her recall and this has been tested a few times when she has come across a stray pheasant! We have so much more freedom with Ruby and it's very pleasing to see that Ruby actually enjoys responding to the training commands she has learnt from Ingrid.
One very important point we realised from the first meeting with Ingrid is that she would not provide us with a 'ready made' dog when training was completed; which again was reassuring for us as we did not want a 'robot'! However, Ingrid does train your dog to the highest possible standard, and then provides you with all the necessary tools to continue with this training. It is not just about your dog being trained; you must also be prepared to understand and follow Ingrid's instructions and absorb every bit of knowledge she passes onto you. If you continue with the training that Ingrid has taught your dog, you will have a very obedient and responsive dog that still retains its character.
We would not hesitate to recommend Ingrid to any dog owner who wants to improve their dog's levels of obedience. Ingrid's love and knowledge of the dogs in her company is clear to see for all.
Callum and Hazel Smith, and Ruby