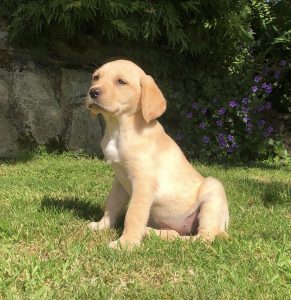 This very sweet little Labrador puppy is called Daisy and she is ten weeks old.
Daisy came with her owners for a pre-training lesson to meet me, and to be taught a few things to do at home before she starts the proper basic training.
As I was talking to the owners and explaining the training methods that I use and what it entails once the training has started, little daisy had a good time investigating the area that we were in and the grass outside. She was a very good girl and didn't have any accidents, and after fifteen minutes she was pretty tired and took herself off into her crate for a sleep.
Meanwhile I continued talking with her owners explaining the immediate training that could start at home such as sitting on the whistle signal for her food, sitting at doorways and coming back on the recall whistle.
At this age and stage, as with all training it's all about consistency, patience, praise, encouragement and pack leadership.
All the training is done without a treat in sight!
I have a couple of weeks to wait until Daisy is ready for school and I can't wait to see her again and get started.