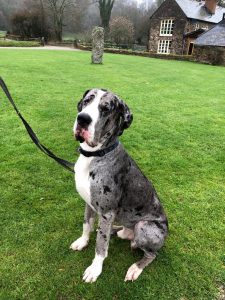 This is very handsome Merlin the great Dane who arrived with his owner from Somerset for the basic training course. As he lives a little way away he came and attended the day course where he and his owner worked very hard and learnt a lot of things that they didn't already know.
He now has a few weeks of work "at school " to become a fully trained dog and he will then be able to have fun and freedom off the lead in the future, but he will also be safe and under control as well, and will listen to his owner at all times!
I will see Merlin in 4 weeks time for his last lesson when he will then be fully trained and ready to meet the world again and go for lovely walks. I am looking forward to that, he's a gorgeous dog to train.