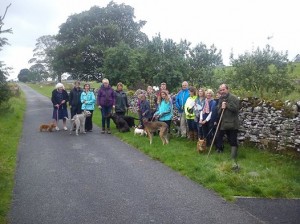 Old Hall Vets have sent me a great picture of the group who braved the weather and joined the charity walk last weekend. And they've posted this message to everyone.
"A big thank you to everyone who joined us for the 'Charity Walk' up Crosby Ravensworth Fell, and to those of you who couldn't make it but donated anyway.
As you can see the British Summertime weather for such events didn't let us down! But
…
with waterproofs and raincoats donned we listened to a fascinating talk about the history of the Fell, given by Farm Conservationist Paul Arkle, and then set off up the Fell itself guided by Ingrid Grayling for a beautiful walk, and beautiful it was. It only drizzled a couple of times!!! Well done every one".
Thank you to all my clients who attended and donated generously we have raised £500.00 so far for the charity which is a brilliant effort!