I'm a bit late this month uploading my blog, but here it is. This months it's all about The Garstang Show that I was at last weekend. enjoy the read.
You can also see it on the Blendbetter website.
AUGUST BLOG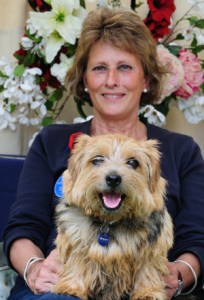 It's the beginning of August, it doesn't feel like it as at the time of writing this as it's pouring with rain, and has been for the past couple of days. This has come as a bit of a shock as we have all been spoilt during the past few months; with glorious sunshine and temperatures that have sometimes been uncomfortable.
For various reasons this year I decided not to have a stand at any county shows but, just at the last minute, I thought that I would go to the Garstang Show in Lancashire. I have several clients down there and I thought it would be fun to go for the weekend.
This was the only weekend that it decided to pour down! I couldn't believe my bad luck arriving at the show ground the night before to put up the marquee, it was obvious that if it kept on raining during the night the show the next day was going to be very very muddy, and we would all be sliding around hopefully not on our bottoms!
We managed to get the marque up without too much trouble, thanks to the amazing help of some of my clients who came along to help me out, and thankfully it wasn't windy so it seemed very stable – I just prayed that it would still be there tomorrow when I arrived!
The next day, arriving at 7.30am, the mud was quite deep and the vehicles were all trying to get onto the field to park and unload, some of us decided to park in the car park allocated for us and just carry our things across to our stands.
Luckily I found two young guys on the gates, they were really great and helped me to get my things across to the stand. They were looking very stressed and were trying to keep everyone calm and happy, I saw them at the end of the looking really worn out as they had had to pull people out of the mud with tractors.
Once I was up and running, and despite the poor conditions, the show was really good and in the morning a few brave souls clad in wellies and macs sloshed along quite happily to my stand. A few people had dogs with them and stopped for a chat, it was a fruitful morning as quite a few decided that they needed my help and booked some of my services.
At the back of my stand there was a little ring set up that had dog events going on throughout the day. A few children went past me with their beloved dogs and there was a fun dog show with a few different classes for the children which they could take part in.
There was also a scurry and an agility class. The agility class drew quite a big crowed in as there seemed to be a lot of noise and clapping going on. Unfortunately I didn't have the time to go round and have a look.
My helper on my stand is a client who has now become a very good friend, she has a little Norfolk terrier called 'Rosie'. Rosie is a crowd puller!
Norfolk terriers are quite unusual in this part of the world, I trained Rosie many years ago for her owner, since then I have looked after her quite a bit over the past few years. Never be fooled by their sweet innocent look! For they may be small but they have a terrier brain and a lions heart and they can be quite determined little dogs. I love them as they are so characterful and full of fun, very nosey and very busy.
On the stand Rosie sits beautiful in full pose for all to admire her, she monitors all that is going on and checks out to see who is walking by. When someone stops to say hello to her she eyes them up and down then decides whether she will allow them to touch her or not, if not she turns her head away and looks in the other direction until they walk away.
At the show Rosie and I did a little demonstration of training outside the marquee and everyone was suitable impressed. When it was over Rosie retired under the chair and deciding that she had had enough she then went to sleep with one eye slightly open just to keep a check on things.
Several dogs walked past with their owners completely unaware that a little Norfolk terrier was checking up on them!
In the afternoon the rain stopped for about an hour, more people arrived on the show ground and things cheered up a bit. Several old friends of mine turned up unexpectedly which was nice surprise and so I was busy again meeting lovely new people and dogs.
I managed to take a break for half an hour and so was able to visit some of the other stands and do some shopping. I passed a tent with loads of budgerigars they were all singing there little hearts out and the noise was amazing.
As I walked by the main ring the heavy horses and fouls were being judged. The sheep and cattle had been in the ring earlier in the morning as had several of the other animals. The heavens opened again and the hoods and hats went on, umbrellas shot up and the ground got even muddier! And so by late afternoon after all the livestock had been judged and we had drank the last of the tea and eaten the last of our sandwiches it was time to pack up again and go home – that was the bit I was worried about! But I needn't have been as several of my friends and helpers came to help me and I managed to get my car through the mud and onto the grass so that we could pack it up. I drove off the show ground praying that I wouldn't have to be pulled out but I was luckier than a lot people as I got out without any mishaps.
What a lovely country show! Friendly, very well organized with some very interesting stands and interesting people doing all sorts of interesting things.
Well done Garstang and I'm sure I'll be back there next year!