No time to train? I'll take the lead
If your work commitments or lifestyle leave no time for dog training (and it does take time to accomplish the job properly), I'll do it for you.
This is a 4 week stay where I take full responsibility for the training of your dog up to my extremely high standards, and at the end of the period, I will hand back to you a very happy, fully trained and totally obedient pet. I do also have a shorter 2 week training option, please see 'Alternative Option' below.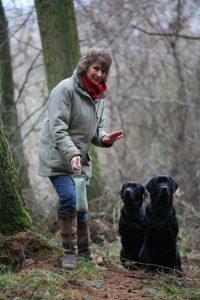 As well as a daily training routine, your dog will accompany me on long daily walks in the open countryside, and socialise with my other guest dogs. Towards the end of the stay, they will be used to being handled by staff in preparation for their return home.
At the end of the stay, I require the owner/s to attend a two-hour training session with me, so that they understand how to handle their dog using the commands I have taught it.
The training session will take place outside on the open fell, where I will show you what I have achieved with your dog, and teach you how to obtain the same level of obedience and good behaviour.
The training work doesn't stop though once you leave me, you will need to continue the work that I have taught you at home with your dog. The training is for it's lifetime but after a short period with regular work it will become second nature for you and your dog.
After working closely with your dog, and having great fun together over the four weeks, I know we will have become the best of friends.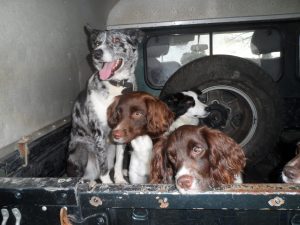 I can't pretend that saying "goodbye" to them isn't sad for me, but I can guarantee that the bond between them and you will not have been broken on your return home, and that their new love of obeying your commands will bring both of you even closer together in the future.
Alternative option
The alternative option is a two week stay with me. This is specially designed for people who really do not have a lot of time, or maybe smaller budget. Your dog may have had some training, or none at all, it doesn't matter. Your dog will stay with me for 2 weeks where I complete Stage 1 training and start it off onto Stage 2. After 2 weeks you will attend a session with me where I show you the work we have done, and then you go home with your dog and work with it for the following 2 weeks doing stage 2 & 3. Finally you return to me for one final session where we go through all of the stages together, and if required we do an anti-livestock session.
Advanced tidying up lesson
Having successfully trained your dog you may in the future decide that you would like me to keep an eye on you! So a  "Tidying Up" one hour lesson is also available should you feel that you need it.
To find out more, and to discuss available dates, call me on 01931 715282 or email ingrid@ingrid-grayling.com