Board, yes. Bored, never!
The owners who leave their dogs with me are people who don't want their dogs left in the standard type of boarding kennels for various reasons. They are looking for a more 'bespoke' service to send their best friend and member of the family to. This is why people come to me for the 'active holiday' service and for some, distance is certainly no object as they travel from hundred of miles away.
As I only take one or two dogs at any given time this is very much a Home from Home situation where the guest dogs have my undivided attention and time for the duration of their stay with me. I have created a very peaceful and quiet environment where they don't have to put up with noise and barking from any other dogs and consequently they won't experience any unwanted distractions or distressed.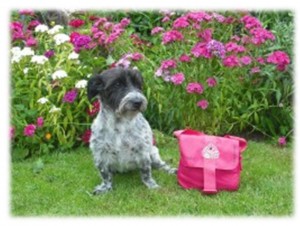 The routine that they will experience while in my care works very well and all dogs settle in very quickly which helps to make them feel very secure, happy and looked after as they know what to expect each day.
It's a busy day here as it starts at 7am and can sometimes end at 10.00-10.30pm after lights out, heat lamps on (depending on the time of year) and a biscuit to go to bed with.
The daily walks take place on the Cumbrian Fells and also on private farm land where some parts are wooded with little streams running through, each day is a new adventure for them with a different terrain to walk on so keeping them stimulated at all times.
As long as the guest dogs are obedient and do not chase livestock then they are off the lead, but under control on their walks. However, for anyone wanting to use my services they may have to consider doing some training with me beforehand. For owners with trained dogs, this care and attention is especially important as I maintain the training and discipline throughout their stay – owners who have worked hard with their dogs over the years can be assured that the individual training level will be maintained.
Specialist Gun Dog owners service
For gun dog owners who are going on holiday, you can leave your dogs with me and I will ensure that your training and hard work does not get undone. As a gun dog owner myself, I know how easily this can happen.
Here are a few points you will need to know:
Three-day assessment
Prior to boarding for the first time, your dog will need to stay with me for a three day assessment. This is an important time for your dog and me: your dog will be introduced to the routine, other guest dogs, and the varied walks. Of equal importance, it enables me to bond with your dog and for us to know each other so that your dog, myself and owner are all happy.
I do reserve the right within this three day period to send your dog home if the visit is proving unsuccessful.
Good health
All dogs must be fully vaccinated, including the Intrac (Kennel Cough) vaccine. This should be given three weeks before boarding, and vaccination certificates must be produced on arrival. Please ensure that your dog has been wormed recently, and bring any medication they are taking, with full written instructions, so that we may continue to treat. In an emergency our vet (in nearby Appleby) will come out to attend to your dog and will liaise if necessary with your veterinary surgeon.
Feeding and diet
I do not provide the food. When your dog comes to stay, it is most important that they continue with their usual diet as this is what they are used to. Please ensure that you bring extra quantities as your dog will be having a very active holiday and will probably need extra fuel! Written instructions are always useful.
Golden Oldies
I welcome senior dogs and understand that the older dog may not need as much exercise as our other guest dogs. On arrival we offer a full assessment to decide on the correct amount of walking and exercise they need, and can manage, whilst they are in our care. I like to offer our golden oldies extra special attention and through our nurturing we make their stay as relaxing and as comfortable as possible. We can also take care of administering their medication so you don't need to worry while you're away, they will receive the best care and attention that they deserve.
Your dog's daily routine
This exercise consists of extensive fell walking, keeping in mind the breed of dogs that are with us; dogs who are unable to do this are walked separately. Our daily walks are varied and include beautiful walks in and around the Eden Valley area with swimming in rivers and streams included as extra fun for those dogs who like getting wet! Our day starts at 7.00am when the dogs are let out for morning emptying (which is always cleared up), and is followed by breakfast. After a schedule of several long walks, lots exercise and plenty of fun, the day ends at 9.30pm when they are out on the fell again for last calls of nature before they are tucked up with a few biscuits before lights out ready for another busy day ahead.
To find out more, and to discuss available dates, call me on 01931 715282 or email ingrid@ingrid-grayling.com
Please note: All dogs must be fully up to date with their yearly vaccinations, including kennel cough. Please bring your certificate with you as I will otherwise not be able to have your dog on my premises. Unfortunately I am unable to take bitches in season.